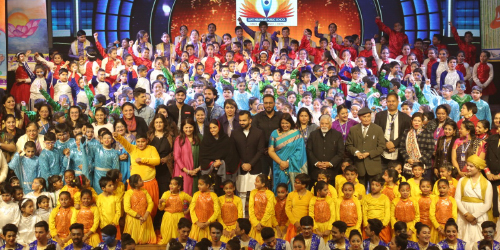 Annual Day of Sant Nirankari Public School, Nirankari Colony
Sant Nirankari Public School, Nirankari Colony celebrated its Annual Day on 18th December' 2019 at Shah Auditorium, Delhi. Woven around the theme "Vasudhaive Kutumbukam" one earth, one family, the scintillating musical performances left an indelible mark in hearts of all. The plethora of performances illuminated that social issues such as  women safety, cleanliness, and abandonment of senior citizens can be removed with unity and living together as one family.
The mega event was blessed by the auspicious presence of Her Holiness Satguru Mata Sudiksha Ji Maharaj and other dignitaries Rev. Mrs. Bindiya Chhabra Ji, Members of CP&AB, Sant Nirankari Mandal and Sant Nirankari Charitable Foundation.
Entailing the ceremonial diya lighting and the school song, the program commenced with a holy Shabad and Shiv Stuti to seek the blessing of the almighty. An electrifying dance performance highlighting the importance of balance among five elements of nature left the audience spellbound. The Principal, Head Boy and Head Girl accentuated the school's year-round activities, events and laurels through their Annual report. Satguru Mataji released the school's Annual magazine – "OJ" and awarded scholarships to the excellent achievers of CBSE Board Exams of Class Xth and Class XIIth of the academic year 2018-19.
Her Holiness blessed the gathering and appreciated the relevance of the theme "Vasudhaive Kutumbukam" – the world is a family that resonated through all the programs and activities presented; this builds our strength and we should all work towards this and make the world a beautiful place. There is also learning from the presentation of five elements of nature, each element has an important part to play and it teaches us to balance our life with academic co-scholastic, co-curricular and enriched with human values to develop holistically. She appreciated the role of every one students, staff and parents who constantly give positive reinforcement. In our hearts we must have an undying and deep sense of gratitude.
The grand finale was very exciting and impressive and was indeed a 'happy ending'.