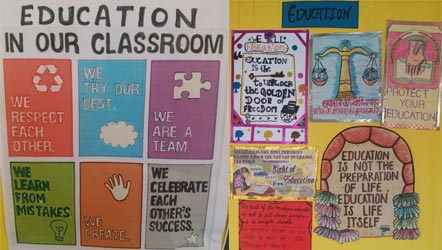 Celebration of National Education Day
19th November, 2018
Knowledge is power. Information is liberating.
Education is the premise of progress, in every society, in every family.
To commemorate the birth anniversary of Maulana Abdul Kalam Azad, great freedom fighter, eminent educationist and the first Union Minister of Education, Central Government vide its resolution has declared 11th September as National Educational Day.
I lieu of the same the following activities were held in our school :-
An inspiring Speech was delivered in the morning assembly, on the Importance of Education and the nation's commitment to all aspects of education, by Ms. Himangini Kumar (English Faculty), on 15th November, 2018.
A motivational poem in hindi on Importance of Literacy, by Mr. Pankaj, on 15th November, 2018.
Slogan writing and Card making competition was held in the school on 17th November, 2018.