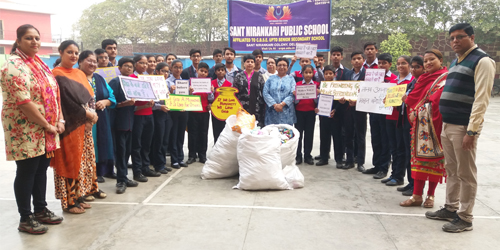 DONATION DRIVE ON ACCOUNT OF 70TH ANNUAL SANT NIRANKARI SAMAGAM
No Act of Kindness, No Matter How Small;
Is Ever Wasted——-As Giving is the Greatest Act of Grace
Under the direction and supervision of our most honourable Principal, Ms. Poonam Syal, a donation drive was held at different sites, on the occasion of 70th Annual Nirankari Sant Samagam. Packets of 'poori /chapatti – sabzi' were distributed on the roads and in the slum areas. The students brought the packets according to their class turn. An active participation was done by the teachers as well. Food packets, biscuits and chocolates were distributed. A proper setup was done by the supporting staff at the  pre decided sites and the packets were distributed by the teachers and the students. Students carrying the placards called out slogans also. The drive carried a very strong message of – 'sharing, caring & humanity'. If we want to make donations  it is not necessary that it should be a hefty one, infact even sharing one meal with a needy can give happiness. The students learnt the basic human traits of sharing and caring.
Following is the schedule of the entire donation drive:-
| | | |
| --- | --- | --- |
| Date | Site | Donations made by classes |
| 15-11-17 | Gopalpur slum area,  Mukherjee Nagar & Indira Vikas slum area | Nur – 5th |
| 16-11-17 | Nehru vihar & Gopalpur slum area | 6th – 12th |
The drive was highly appreciated by the parents as well as the spectators. While commencing this noble drive we all had a unique feeling of self satisfaction. We whole heartedly welcome such social welfare programmes in future too.