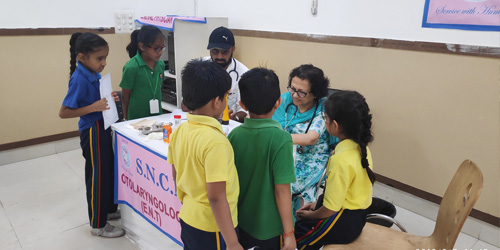 Free Health Checkup Camp for Students
Sant Nirankari Public School, Nirankari colony, organized a free health checkup camp for all 1790 students on 7th August, 2019. A team of more than 60 doctors along with 150 volunteers, conducted the camp which included General Physician, Dental, Eyes, Height, Weight and Blood Pressure check. Necessary medical advice and precautionary measures were prescribed to the students. An awareness talk was held for girls of classes VI to XII, where menstrual hygiene and STD myths were discussed. The camp was graced by the presence of Rev. Ms. Bindiya Chabbra (Executive President, Sant Nirankari Charitable Foundation), Mr. S. C. Talwar (Member Incharge, Education) and Ms. Raman Manhas (Administrator – All SNP Schools & Manager, SNPS-Nirankari Colony).
The objective of this Health Checkup camp was:-
to maintain proper health and hygiene among students.
to access normal development of child.
early detection of disease which when treated timely, enables a child to lead a normal and healthy life.
the preventive checkup data becomes the base line for future reference.