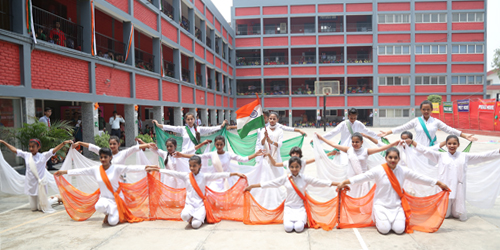 Independence Day Celebration – 2019
15th August, 2019
LET'S NOT TAKE OUR INDEPENDENCE FOR GRANTED……
LET'S DO OUT BIT TO MAKE INDIA A BETTER PLACE……
LEGACY TO LIVE FOR & LEGACY TO DIE FOR.
HAPPY INDEPENDENCE DAY TO ALL PROUD INDIANS !
To commemorate the valiant martyrs who sacrificed their lives to liberate our motherland from the manacles of thralldom, Independence Day was acknowledged  with great enthusiasm and patriotic fervour. The guests of honour Ms. Raman Manhas (Manager – SNPS, Nirankari Colony & Administrator – All Sant Nirankari Public Schools) & Ms. Suraksha Bajaj (Chairperson – SNPS, Nirankari Colony) marked their benign presence for the occasion. The Principal Dr. Sarita Pande, welcomed the guests and delivered greetings in cheerful words.
The Guests of Honour unfurled the Tricolour along with the Principal, Vice Principal and the Head Council. The National Anthem echoed in the entire campus. Reverberated with a spirit of Patriotism the toddlers showcased an ecstatic performance. Followed by a stimulating speech, rhythmic dance performances, symphonic musical rendition and an elaborative skit. Indeed, it was a day of joy, a day to love and respect our country and make it a better place for Indians to live and experience the freedom, peace and unity in diversity. The venerable manager addressed the gathering appealing to their nationalistic spirit and urging them to take pride in being an Indian and fulfilling one's duty with responsibility. The audience was motivated to deliberately follow 'Beat Air Pollution' and 'Waste Management'.
The programme concluded with blessings by Chairperson and Vote of Thanks by Vice Principal.