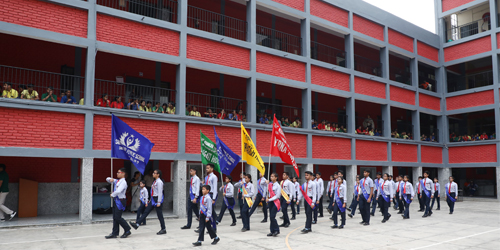 Investiture Ceremony- Entitling Future Leading Personages
Sant Nirankari Public School, Nirankari Colony organized the current year's INVESTITURE CEREMONY to recognize and honour the new torch bearers of the institution. The event organized on 3rd of August in school premises commenced with the lighting of the lamp of glory and wisdom by chief guest Rev. Mr. S.C. Talwar (Member Incharge, Education), Rev Ms. Raman Manhas (Administrator- all SNP Schools & Manager, SNPS- Nirankari Colony) along with Principal Dr. Sarita Pande and Vice Principal, Ms. Ranjana Grover and other dignitaries.
A rendition of Ganesh Vandana was a perfect holy start followed by introduction and entitlement of the school cabinet team. It was a heartwarming sight to see the proud parents witness the young leaders taking the oath, to work earnestly and uphold the glory of the institution. A melodic choir, a street play displaying leadership was performed to celebrate caliber and leadership of future generation.
Each appointed council member was adorned with sashe and badge by the chief guest, the Principal and the Vice Principal along with Guest of Honour- Ms. Narinder Batra (Convener- Cultural Committee, SNP Schools), Ms. Asha Kapoor (Convener- Academics) accompanied by Chairperson's, Manager's and HOS of all SNPS branches. The Head boy, Head girl, Discipline-In-charges, Sports Captains, House Captains and Prefects stood tall while holding the flags of SNPS.
The venerable manager, Ms. Raman Manhas and The Principal Dr. Sarita Pande shared their valuable past experiences and motivated children to keep moving forward despite all obstacles and challenges and uphold the ethos and values of school.