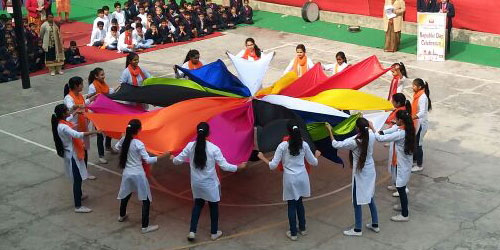 The Republic Day Celebration – 2018
FREEDOM IN MIND, FAITH IN WORDS;
PRIDE IN OUR HEART, MEMORIES IN OUR SOUL.
LET'S SALUTE THE NATION ON REPUBLIC DAY……..
SNPS, Nirankari Colony, witnessed the celebration of 69th Republic Day on 25th January, 2018, in the school premises. The function commenced with flag hoisting followed by National Anthem, done by Mr. A S Adarsh (Honourable Manager, SNPS, Nirankari Colony) and our most respected principal Ms. Poonam Syal. The sequence of the programme was as follows :-
Pledge taking ceremony – Preamble to the Constitution : As directed by the Directorate of Education. Participation of entire School.
Ganesh Vandana : An energetic dance performance by the boys of middle level.
Patriotic speech by Pranjal (X B) – Prerna House.
A heart touching poem by Archita (Nursery C) – spreading the message of Swacch Bharat Abhiyan.
Passionate Patriotic parady of songs by the senior boys of Prakash House.
Spectacular skit performed by the students of Preet House – highlighting the Rights and Duties in our Constitution.
Wondrous and colourful Saree drill performed by the senior girls.
Stupendous dance performance by the primary kids of Pragati House.
A rocking Vande Matram Mash up by Pankaj Sir and the senior boys group.
Words of wisdom by the guest of honour Mr. A S Adarsh.
Felicitation of Cultural, Sports and Academic achievers. (Zonal, Inter Zonal and District Level)
Astounding Ghoomar dance performed by the middle and senior girls.
Vote of thanks by Honourable Principal, SNPS, Nirankari colony, Ms. Poonam Syal.
Candle Light Ceremony – Passing of candles by grade 12 students to grade 11 students as a symbol of knowledge, wisdom and hope. Along with the candles is passed on the responsibility of maintaining the glory of the worthy institution and taking it to the new heights of success and prosperity.
Ending of celebration with the school song.