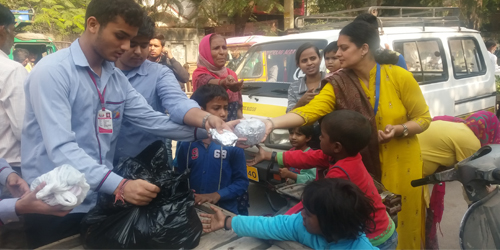 SNPS, Nirankari Colony organized Donation Drive
"The way you get meaning into your life is to devote yourself to loving others, devote yourself to your community around you, and devote yourself to creating something that gives you purpose and meaning."
With an aim to instill values such as belief in the community service, sharing, inclusiveness, duty of selflessly serving others and the equality of all people of diverse backgrounds, SNPS, Nirankari Colony , Delhi, organized a donation drive at Indira Vikas Colony (Chungi) and Holy Cross Orphanage on 22nd  Nov., 2018.
The volunteers comprised of spirited students from Class V to Class XII. The teachers namely, Mrs. Saroj Khattar, Mrs. Himangini Kumar , Mrs. Pooja Bhasin , Mr. Pankaj, Mr. Ashok and Ms. Geetanjali whole heartedly coordinated with the volunteers in distributing the eatables i.e. aloo puri and biscuits. Banners and slogans added well to the drive.
The drive was well appreciated by the masses and proved to be a boon for the students to readily come forward for such social welfare services ahead.