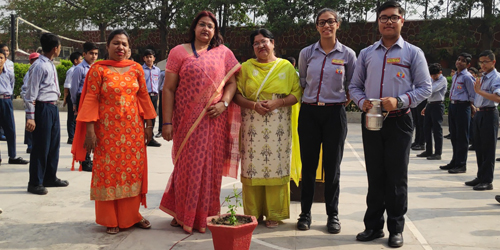 Tree Plantation on the occasion of Van Mahotsav Day
Monday, 8th July,2019, was observed as the Van Mahotsav Day in our School. The following activities were held to mark the worthy day :-
An inspiring poem by Raghav Sharma (XII A) on – 'SAVE TREES'.
A heart touching group song by the students of class IX & XI, giving out a message – 'STOP CUTTING TREES'.
A sapling planted by Rev. Dr. Sarita Pande (Principal), Ms. Ranjana Grover (Vice Principal), Ms.Gurjeet (House Incharge – Prerna House), Divyanshi Rathod (Headgirl) and Raghav Sharma (Headboy).
A blessing song was sung by Ms. Saroj Bhatia during the Tree Plantation.