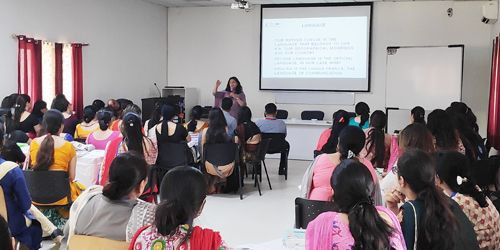 Workshop on Classroom Techniques for English Language Teaching
Language is the blood of the soul into which thoughts run and out of which they grow. It is the means of communicating thoughts and ideas and helps to develop our personality. In lieu of the same, an English Language Workshop was conducted at Sant Nirankari Public School, Nirankari Colony, Delhi  on 20th May, 2019 which was attended by Ms. Raman Manhas, the Manager, S.N.P.S , Nirankari Colony and the Administrator of all S.N.P. Schools, Ms. Ranjana Grover, Principal, S.N.P.S , Nirankari Colony and the English Faculty of all branches of Sant Nirankari Public Schools.
The resource persons of the workshop were Ms. Anupama Bakhshi and Mr. Arani Banerjee. Ms. Anupama, enlightened everyone with her deep love for literary world and a sound understanding of Phonetics while Mr. Bakshi advocated the importance of Functional English and its use in the classroom.
The workshop laid emphasis on the importance of English Language as it is considered to be the first global Lingua Franca. It is the International Language of communication. It also accentuated the importance of phonetics as it allows teachers to examine the differences between the sounds of source and explain this difference to the young learners. It also laid stress on the development of four important skills – Reading, Writing, Listening and speaking so that the young minds are widened, engaged and ignited with the growing love for Language.
Thus, it was indeed a fruitful and well structured workshop. Hoping for more such workshops in future.