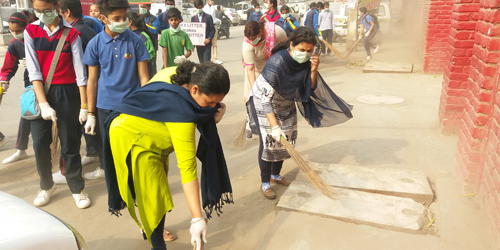 ACTIVITIES CONDUCTED ON THE OCCASION OF HIS HOLINESS BABA HARDEV SINGH JI MAHARAJ'S BIRTH ANNIVERSARY
OUR WORLD NEEDS BRIDGES NOT WALLS……
EVADING THE RIPPLES OF EGO AND PREJUDICE,
HUMILITY – BECOMES A NEVER ENDING PRACTICE……
To pay tribute to the Lord Master His Holiness Babaji the following activities were conducted on his Birth Anniversary :-
23rd February, 2018 : Special Morning Assembly –
Lovleen Sethi enlightened us with the living and preachings of Satguru Babaji.
Heart touching poetry on Babaji by Mr. Pankaj.
A mesmerising bhakti geet by Ms. Megha Malhotra.
A PERSON MIGHT BE AN EXPERT IN ANY FIELD OF EDUCATION;
BUT WITHOUT CLEANLINESS HIS LIFE IS A WASTE……….
CLEAN AND GREEN IS OUR PERFECT DREAM!!!!!!!!!
24th February, 2018 : Cleanliness Drive in and around the school premises.
Following the teachings of the holy Nirankari Mission a Cleanliness Drive was conducted in the Indira Vikas Colony wherein teachers and students of SNPS, Nirankari Colony, enthusiastically participated along with the supporting staff. Slogans were also raised to spread awareness of cleanliness in the slum areas.