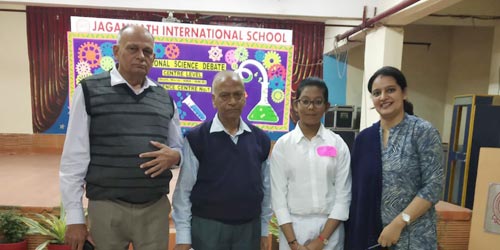 Centre Level Science Debate Competition (2018-19)
Science is an attempt,
Largely successful….
To understand the world,
With mysteries unfurled….
Sant Nirankari Public School, Nirankari Colony, Delhi, set a benchmark on 17th Nov. , 2018 when it was adjudged the winner in National Science Debate Competition (2018-19) held at Jagannath International School, Pushpanjali Enclave, Delhi and finalized for the State Level Competition.
With the topic being "Power of Electric Technology – the Boon for Humanity" about 20 speakers from various schools in Distt. North/ North West A/ North West B , vied for honours. Rudrakshi of class VIII – C of our school exhibited great oratorical skills armed with statistics and valid data. She made her arguments more emphatic with right facial expressions, body movements and gestures.
The judges of the competition, Mr. S. C. Aggarwal , Retd. Principal, Delhi Govt. School, Sec-6, Rohini, Mr. Dhamma , Retd. Science Counsellor and Mrs. Indu Sharma, Principal , Jagannath International School,Delhi, appreciated and applauded the contestant and the teacher concerned.