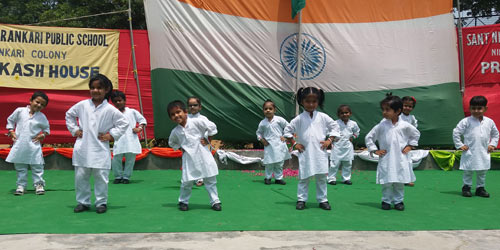 Independence Day Celebration
Ours is a land of sages,
Known for bravery for ages.
None can with it compete,
Its culture none can beat.
Lets for it work hard,
Fot its safety be on guard…….
Independence Day celebration was held in our school on 14th August, 2018. The guests of honour were Ms. Raman Manhas (Administrator – All Sant Nirankari Public Schools), Ms. Usha Sirohi (Chairperson – SNPS, Nirankari Colony), Mr. A S Adarsh (Manager – SNPS, Nirankari Colony) and Members of 'INNER WHEEL CLUB – a social welfare club'. The entire programme was held under the guidance of our most honourable Principal, Ms. Ranjana Grover. The highlights of the programme were as follows:-
Anchoring by Ms. Himangini (English Faculty), Tanya Sharma (X B) & Zakiullah Abid (X B)
Flag Hoisting along with National Anthem by the Guests of honour and Principal ma'am.
An ecstatic Patriotic dance performance by the toddlers of Nursery Wing.
A heart touching patriotic songs parody by the School band.
Felicitation for the achievements during the current session 2018-19. (Inter School competition (English Elocution/Debate/Extempore), Floor wise Plastic free classes).
Inter House Competition for 'Best Out Of waste' organized by THE INNER WHEEL CLUB – Best 5 entries were given prizes by the club.
Blessings and Inspirational speech by Ms. Usha Sirohi.
Vote of Thanks by Himangini mam.