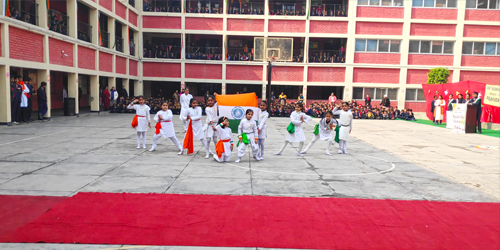 Republic Day Celebration – 2019
The progress of a nation depends on the individuals residing in it. So let us be responsible citizens and educate our children so that they can grow up and make this country proud.


SNPS, Nirankari Colony, witnessed the celebration of 70th Republic Day on 25th January, 2019, in the school premises. The function commenced with flag hoisting followed by National Anthem, done by – Ms. Suraksha Bajaj (Honourable Chairperson, SNPS, Nirankari Colony), Ms. Raman Manhas (Honourable Manager, SNPS, Nirankari Colony) and our most respected Principal Ms. Ranjana Grover. The other special guests were Mr. Ashutosh Jha and Ms. Vandana Lal – Alumnis of our worthy institution. The sequence of the programme was as follows :-
Welcome of the worthy guests.
Welcome Dance : An energetic dance performance by the li'l girls of Primary section.
Patriotic speech by Kartik (VIII C) – Pragati House.
Spectacular skit performed by the students of Preet House – highlighting the formation of our Constitution.
Passionate Patriotic parady of songs by Prerna House.
Stupendous dance performance by the middle school girls.
Vande Matram by the senior boys group.
Felicitation of Cultural and Sports achievers. (Zonal, Inter Zonal and District Level).
Inspirational words and sharing of school life experience – by the Alumnis.
Vote of thanks and appreciation by Honourable Manager, SNPS, Nirankari colony, Ms. Raman Manhas.
Words of wisdom by the venerable chairperson Ms. Suraksha Bajaj.
The function ended with an enthusiastic participation of all the students in the School Song.
Note : Anchoring of the entire function was done by House on Duty – Prakash House.