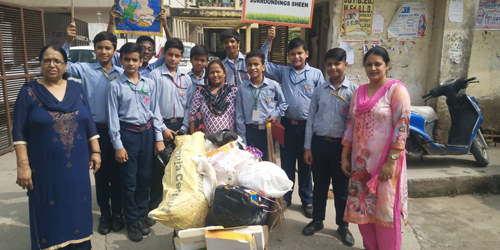 Swachh Bharat Pakhwada (2018-19)
On account of Swachh Bharat Pakhwada, as sent by Directorate of Education, the following fortnightly activities were held in our school:
4th September, 2018
1.) A speech was delivered highlighting cleanliness and hygiene.
2.) An oath taking ceremony by the staff and students – to be an active participant of Swachh Bharat Mission.
5th September, 2018
1.) Sensitizing students about recyclable and non-recyclable waste and segregation of litter.
2.) Tree Plantation within the School Premises.
6th September, 2018
1.) Essay writing English and Hindi.
2.) Painting Competition.
7th September, 2018
1.) A PowerPoint presentation depicting health and hygiene was displayed in all the classrooms.  Also classroom discussion on the same was held.
10th September, 2018
1.) Community participation day : cleanliness and awareness drive by students and teachers along with raising of cleanliness slogans.
11th September, 2018
1.) Swachhta School Exhibition Day : Display of photographs, paintings, slogans on cleanliness activities conducted during the Swachhta Pakhwada.
12th September, 2018
1.) Swachh Water Day – speech on awareness of water borne diseases to promote safe drinking water.  Learning of organic/inorganic waste in water to avoid intake of unsafe water.
13th September, 2018
1.) Water Harvesting Day : A quiz was conducted for creating awareness amongst the students about rainwater harvesting. An introduction was also given to the concept of rainwater harvesting, its importance and need in present time.
14th September, 2018
The participants and teachers who participated in painting, essay and quiz were felicitated.
15th September, 2018
1.) Postcard writing to our honorable PM Mr. Narender Modi.
Number of students' Participation : 30
2.) Swachhta campaign (Shramdaan).
Number of students' Participation : 50